Another powerful female role model, Diana Cojocaru, introduced me to Bloom Concept. The moment I visited the Instagram account and the website, I knew: Andreea and Evelina are my kind of inspiring women, and an interview with them is a must.
These remarkable ladies have made their business a manifesto for change. And in my opinion, that is the best approach. Businesses that we create must be social change agents, educating and inspiring others.
I am not referring to any kind of extremism. I am talking about small steps, genuine activities that are building a better world for us and future generations.
Always remember that less is more, that simplicity is noble, that kindness goes a long way, that speaking up for other women and shedding light on taboo subjects like menstruation and body positivity is an act of empowerment and not weakness.
The story of Evelina and Andreea, founders of Bloom Concept, is sure to inspire. The women around you deserve your praise. And not just occasionally. ALWAYS!
Please tell me about BLOOM CONCEPT STORE. Who is behind this project, and why the name?
Andreea: Before we begin telling our story, we wish to thank you. We are still in awe of this invitation and humbled by your interest in us. A dream. To be alongside all the beautiful people and initiatives we are discovering through your blog. Thank you for embarking on this journey and for taking us all along for the ride.
Bloom was born of motherhood and of a shaping friendship between us two, Andreea and Evelina. We met back in 2020 at our children's 6-month check-up (they were born only 29 days apart). I thought I heard Evelina speak Romanian to her daughter, so I just went to say hello. We have a lot in common, but most of all, we share core values.
Evelina: During the pandemic, we quickly connected and became friends. A year later, we launched the company, and we still believe it was the best thing that could have happened (from a creative standpoint). We are both from Romania and have different professional backgrounds, but we share a passion for sustainable products, nature, and people.
Our business name is related to women blooming, flourishing, and growing together. It is also a metaphor for coffee blooming when brewed (and we love coffee). Beeswax blooms as well; that's how you can tell it is pure and natural.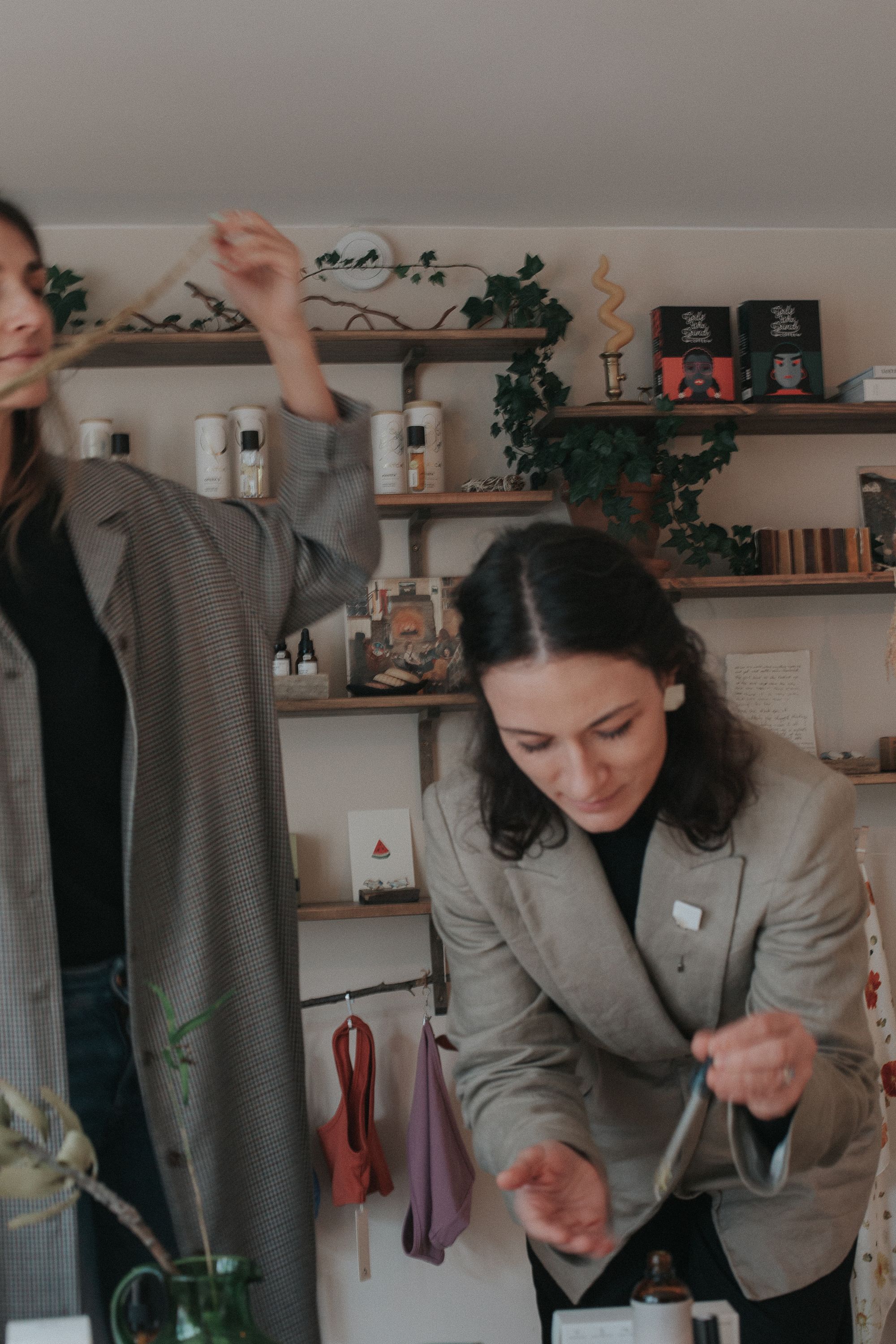 Andreea: Last week, I received a phone call where the person on the other side was hoping we could deliver a bouquet for a funeral next Saturday. When people hear "Bloom" their first thought is that we work with flowers. Yes, other things can bloom just as beautifully: people, wax, and coffee. And we love all of these.
Ah, and we should not forget about our logo. Did you know that a Romanian artist was the creator of our logo?
I knew Iulia Ignat from an application for EU funding through my research work at the University of Stavanger; unfortunately, I cannot remember how I first got to know her art. She is special. She is inspiring.
We asked her if she would find it interesting to help us design something representative of what we try to embody. We had quite a few Zoom meetings that naturally started with flowers but developed into wings around the spiral of life (which was really Evelina's geology background speaking).
It is about taking flight as a woman.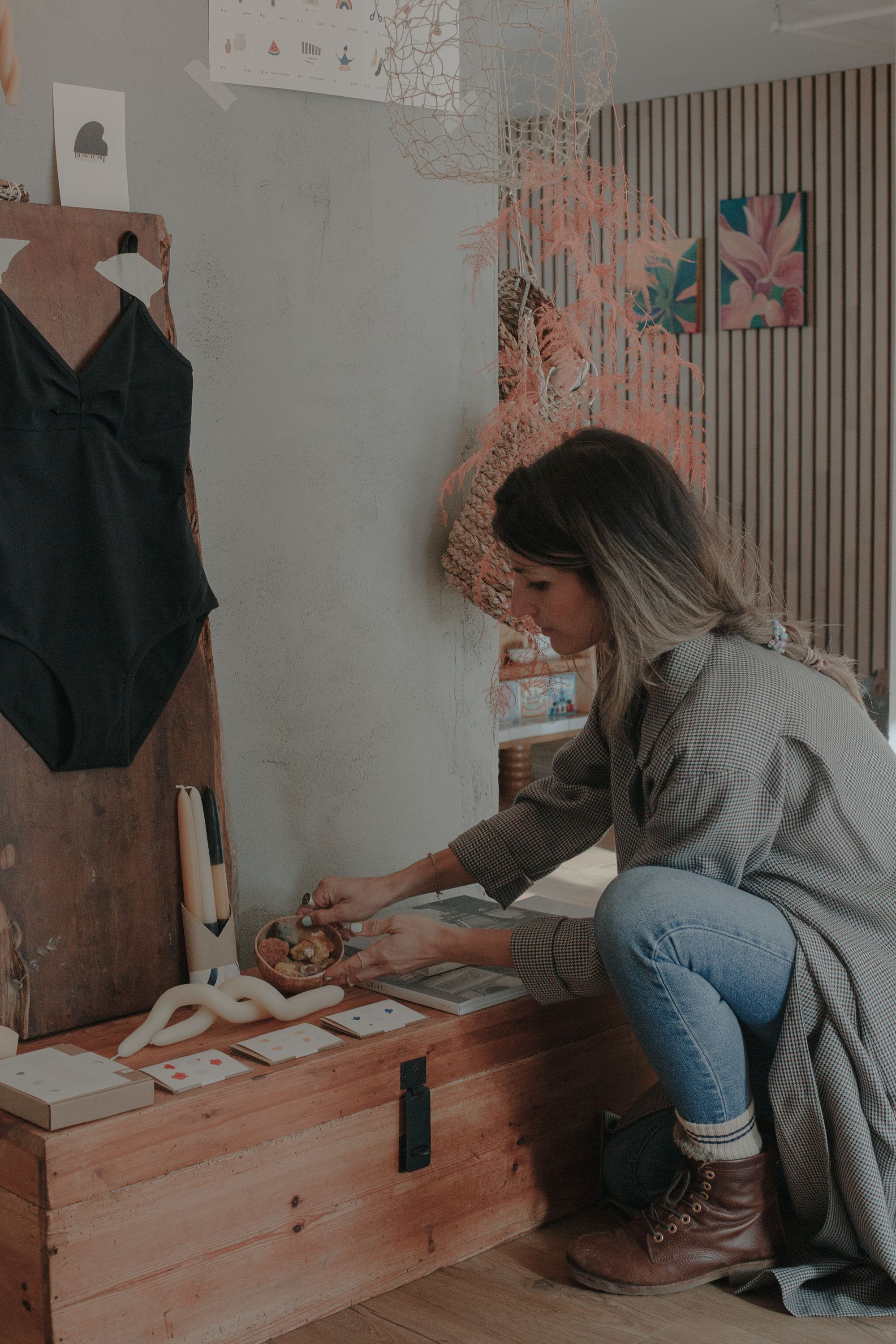 I get the impression it is more than just a business; it is a manifesto for slow and fine living. Am I correct?
Evelina: It is definitely different than a common business idea. The idea began with empowering women in various ways and supporting small businesses that love what they do and do it with respect for nature.
Andreea: We are on a mission. To teach people that there are free lunches and that there is nothing to lose if we are kind to one another. On the contrary, it is for this reason that we bake on Saturdays and share our cakes and an occasional cup of coffee without expecting payment.
So, three missions, I suppose. The second is normalising what has long been considered taboo about the female body: menstruation, menopause, ageing, pelvic floor changes, pregnancy (or not), and postpartum experiences. There is so much more to say; my fingers itch...
The third goal is to demonstrate to people that personal fulfilment does not have to come from having a large number of objects, but rather from owning high-quality items that bring joy (similar to Marie Kondo's philosophy).
What we source from creators all over the world can be used, is of use, and most pieces will be used up. It is about living in the moment and embracing wabi-sabi to allow beauty to be discovered in the imperfect. Stepping into our space is meant to be a relaxing experience, similar to exploring a living room in a home.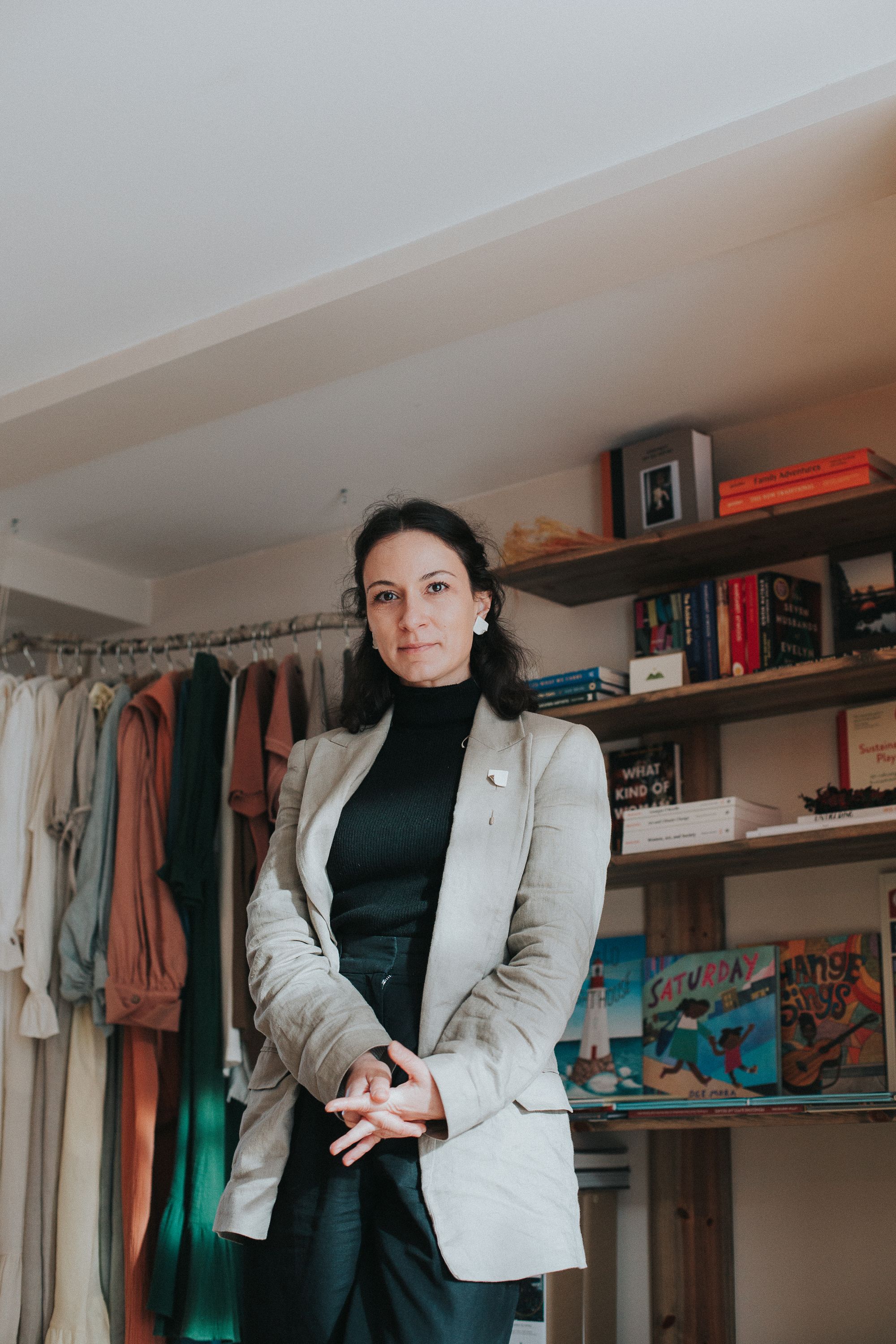 How has living in Norway changed your perspective on personal and professional life?
Andreea: Personally, I value the water quality (yes, the water here is perfect for body and mind), the proximity to the sea and mountains, and the freedom to spend time with your family every day. Perhaps our way of life in Norway appears to be slower than, say, in the United States, but it is not. That is what we hope to find in the brief, precious moments spice up our lives. We run to get things done, just like everyone else.
Evelina: Norway is a great country to raise your children in. This is a society that prioritises the well-being of children. It is a safe country that gives you a sense of security (not that we do not miss home, Romania). Norway is not a cheap place to live, but living here has taught me that buying quality products that will last longer is preferable to collecting quantity.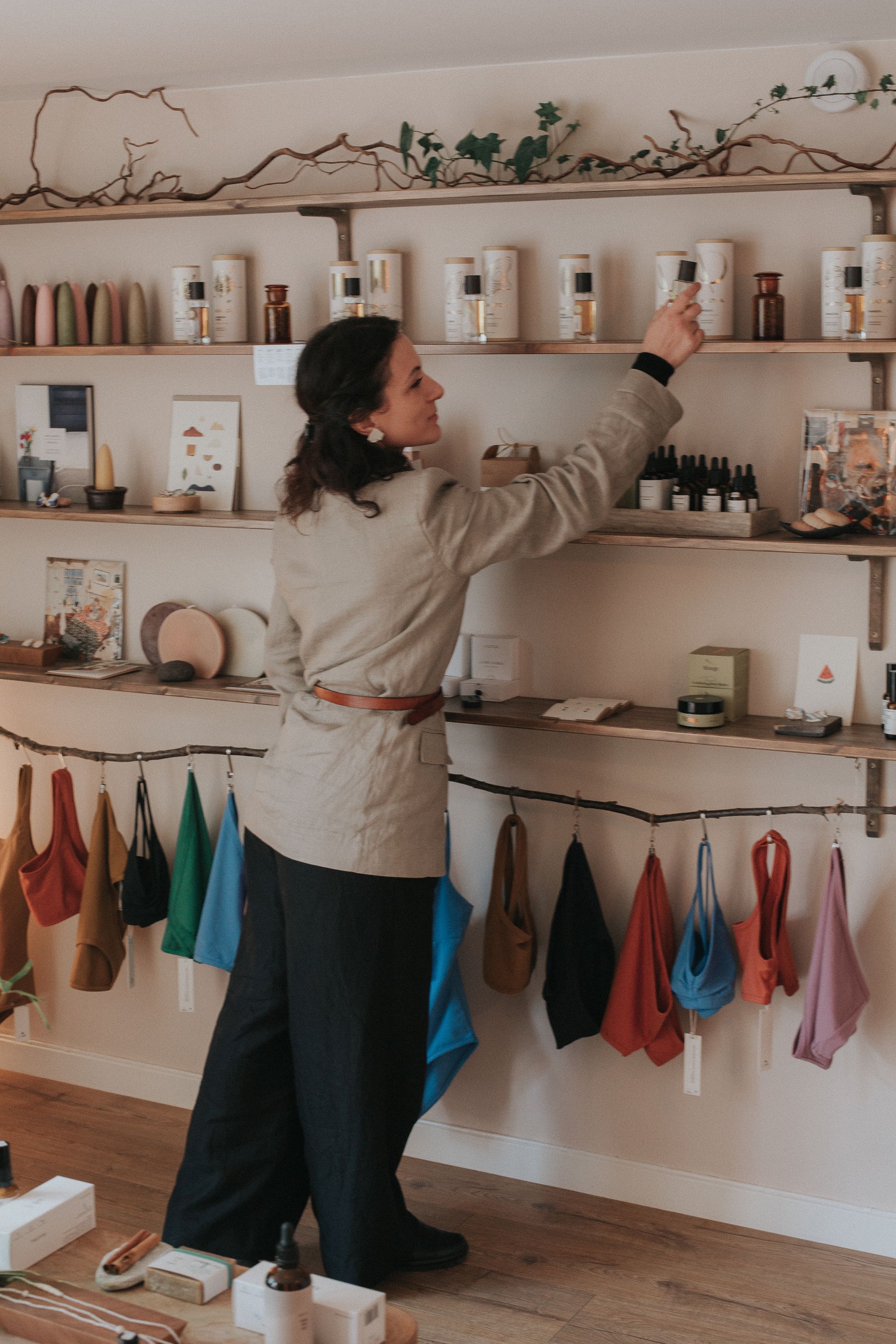 Slow fashion, handmade jewellery, self-care, scent, hygge, art, ceramics, kids products, furniture, books, and magazines are all available at BLOOM CONCEPT STORE. Please explain how you choose items for your store and website. There are so many different categories and types of items.
Evelina: We had tried many of the products before opening the store, including those made in Romania (by Hempcloth, Diana Cojocaru, Mo, Atinge, and Matca). We then used this network to connect with other producers who shared our values, as well as clients and people we knew and trusted in their recommendations. Of course, there are times when producers find us and contact us about their work.
Andreea: Importing privately is expensive, and we wanted easy access to things we love and use on a daily basis. We hoped to share them with others as well. After a year and a half, we notice that people come to us to buy gifts. They want to offer something different, something meaningful. Then this all feels worthwhile.
We are very particular about the products we choose. Most of them are tested first so that we can be confident in what we offer our visitors. Evelina and I have slightly different preferences, but we complement each other very well.
Beyond the inherent properties and physical appearance, we always make sure that the products are made from natural materials with a low environmental impact (from paper to glass, wood, linen, and cotton), that they are ethically made (and it just so happens that most items are handmade or made by a small team in the supplier's local atelier), that they are female-forward (even the books we sell are written and/or illustrated by female artists), and that we that we connect in conversations and in values (we also like to visit the Creators whenever possible).
For many of the Creators we were the first shop to source their products outside their country of origin and/or outside the EU.
That felt very special, but it was also a little scary to have to learn how to navigate the bureaucracy of international shipping.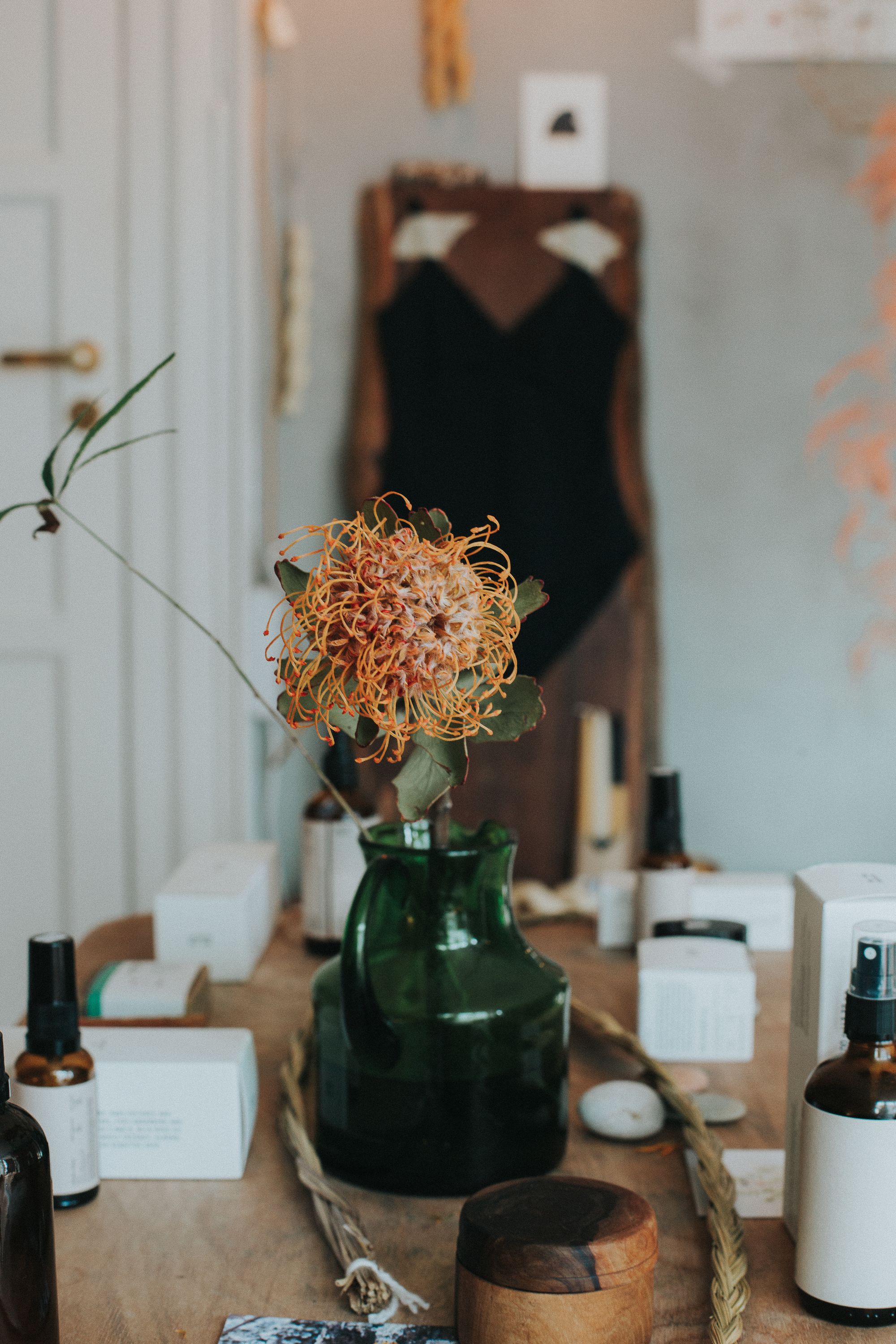 How about the coffee? 🙂
Andreea: Coffee, oh the coffee. Is not that the liquid thread that connects us all? But have you ever noticed how male-dominated it really is? If you are lucky, you might get a female barista, but beyond that, the supply chain is fairly homogeneous, gender-wise. It is extremely difficult to find female-forward roasters or farmers. Ask your barista next time if they know any women who roast specialty coffee (and let us know!).
Evelina: The coffee corner was always a part of the shop that we wanted to grow and develop as part of the concept. Coffee brings us together, sparks conversations, and allows us to express our emotions. It makes us feel better. We occasionally serve homemade baked goods alongside coffee to make guests feel at ease and at home.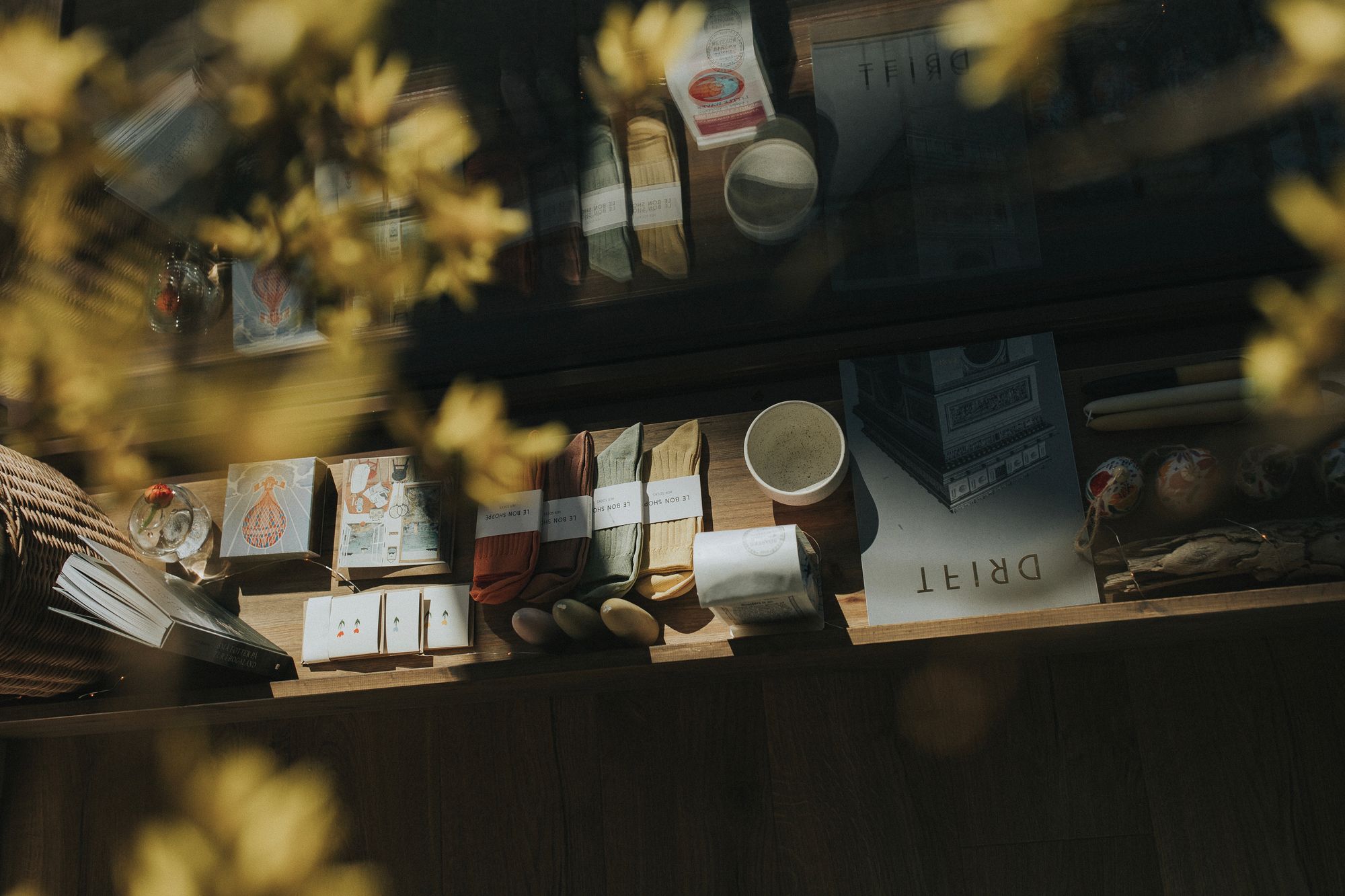 Tell me a little more about the Creators. What values do they have in common?
Evelina: The creators we work with are beautiful people who respect and love nature, materials, work with sustainability at the forefront, and care about people.
The majority of them are women (with one or two exceptions), which speaks to our concept of empowering women in small businesses because, without a doubt, they do not receive the recognition they deserve. Their products are handmade or handcrafted, time-consuming, and require active effort.
Andreea: Quality is what they provide. They are advocates for women's rights. In their own special ways, they all enhance the world we live in. They are genuine and rooted, with no online persona to conceal their authenticity. Their kindness and concern are genuine. They make an effort to get to know us personally, and every shipment includes some sort of thoughtful personalisation, such as a handwritten note or individualised packaging.
A shipment from Hiyoko Imai in the Netherlands ran into some difficulties at customs just the other day. We reached out to her, and she stood with us every step of the way to see that everything was resolved. She did not have to do that, but she took from her time to be there for us. The first time we met Ryoko, the owner of a senses salon in Berlin, is another instance that springs to mind. We met over Zoom first.
Her partner, Daniel, and I bonded over our shared Romanian background (surprise!). They thought it very special that I had purchased from them a Japanese antique that others had perceived as flawed – it has woodworm holes and traces (that special piece sits now above my kitchen door, and I love seeing it there every day).
Motherhood, the taboos of birthing and postpartum, wanting a better world for our children, or our small business experiences and inexperiences bind us together. We help one another, and our village circle is expanding. That feels right and empowering.
Please tell me more about your website's Rental section. It is very cool, interesting, and necessary in our time.
Andreea: How many dresses have I worn once or twice in my closet? A few, I confess. How many do you have? We made it possible for people to live in linen, hemp, and cotton dresses at a lower cost and with no storage. More so because we do not believe in discounts, especially given the environmental impact of fast fashion.
There exists a successful clothing rental concept that is based here in Stavanger. That gives us hope. I wish I could say more, but we are not there yet. Most people still prefer to own rather than rent clothing, and I know that the last few years have been a period of transition and acceptance for me.
By the way, our pre-loved section, which comes and goes in our physical shop, remains invisible in our online store. Norway has a thriving relationship with thrifting, which we applaud and take advantage of whenever possible.
"Quality helps us live happier, calmer, and with more confidence in life and in ourselves. It's not a matter of means, but of choices. The ancients said they couldn't afford to buy poor-quality things; purchases had to have a long life." Dominique Loreau, "The Art of Refinement" What are your thoughts on this quote?
Evelina: We live in a world where we have everything, anything, at any given time. And we tend to forget that it is not the case everywhere. We, from the very developed countries tend to spend more and have less consciousness about the impact on the environment. Buying less and good quality seems to be an ancient quote and advice.
Andreea: I wish I had read this in my teens, then again in my twenties and early thirties. As a reminder and source of inspiration for my own experiences and transformations. I have collected a lot of things over the years, some of lower quality than others, but not many of them have ended up in landfills, which gives me some peace of mind.
I still have at least one piece from my first year of university that I wear on a regular basis. Not long ago, I wore out a pair of jeans I purchased in high school. I gradually reduced my purchases. I began to think about it more.
I suppose I was also somewhat forced to do that since I have switched countries five times by now and there is only so much that I can fit in a couple suitcases. I lived out of one suitcase for an entire year when I moved to Belgium, and it felt less complicated. Freeing.
I enjoy thrifting, but I also enjoy my grandparents' collections, which I have begun to bring back to Stavanger. There is no dinner table more beautiful than the one with my grandmother's old crystal glasses to sip from.
But, as Dominique Loreau points out, it is not just the consumer's experience that matters in this equation. It is also about the variety of options available. There will be little to no supply of low-quality items if there is no demand for them.
We are all price-sensitive, and adjusting to the concept of needing to buy less in order to buy more requires an active mindset and genuine effort. In a fast-paced world, it is necessary to think slowly.
How do you both approach the hygge concept?
Evelina: I came here and discovered this concept, which I adore. It is about bringing friends together and enjoying the little things in life, not just candles, making a cosy home, and tea. And I believe this is what we want to achieve in our shop.
Andreea: It all starts with a cup of coffee in the morning and listening to my partner grind the beans with our hand-grinder. Our 45-year-old turntable is humming along to a Melody Gardot or Gregory Porter LP. It ends with playing board games by candlelight.
Dishes of various sizes and colours are an example of "the small things" that I have always enjoyed. When I brought home a new small find like this, my mother would always ask, "Andreea, what do you plan to do with that?"
"I do not know," I always said, "but I will figure it out." Now I use the small dishes for setting dinner tables. Welcoming people into our home, just like Evelina says, is an important part of our hygge.
My mother (and grandmothers) always baked from scratch at home when I was growing up, and it has a special place in my "book of hygge."
Hygge is now also about baking for our shop and sharing what we do with visitors at Stavanger area markets, whether fall markets, Christmas markets, or backyard markets.
Hygge is about getting involved and building bridges within our community, our village. And we have plans to expand on this through our shop.
What female role models do you admire?
Andreea: For me, this is about women I know and interact with on a regular basis. I am a commoner, and I appreciate it when people remain genuine and approachable.
Evelina: I admire many women for who they are and what they do; we can learn something from everyone. It does not have to be a famous person.
Where is your store, and how can customers visit and purchase their favourites?
Our physical shop is located on an international street in Stavanger, Norway, at Pedersgata 44, N-4013. We are there from Wednesday to Saturday, and sometimes other days, too. Everyone is welcome, wholeheartedly. Our online shop is open all week round at webloom.no.
Webloom.no completes your Nordic-inspired aesthetic. Are you also shipping to the rest of Europe?
For the time being, we only ship within Norway. We cannot, however, say no to bringing a little something to those who enjoy slow living, and we have personally delivered orders abroad (mostly to relatives and friends).
What does happiness imply to you?
Evelina: Being close to a healthy family and friends (which is difficult when you live a long distance away). And kindness, seeing, being, and feeling.
Andreea: Ikigai. Each morning, I wake up knowing that I am fulfilling my life's purpose: raising respectful, caring humans and empowering them to continue planting tiny seeds of positive change.
photos: Evelina & Andreea, Bloom Concept