A delightful interview with Sophie, the curator of Mediterra Treasures, extends my series of interviews with people from different parts of the world.
I'm pleased to have prepared this talk available for you before the weekend. The world that Sophie creates is breathtaking. When I'm feeling down or need to nourish my innermost being with aesthetics, her Mediterra Treasures is one of my go-to sources of inspiration.
A leisurely tour of the Mediterranean's finest living, eating, and sightseeing destinations.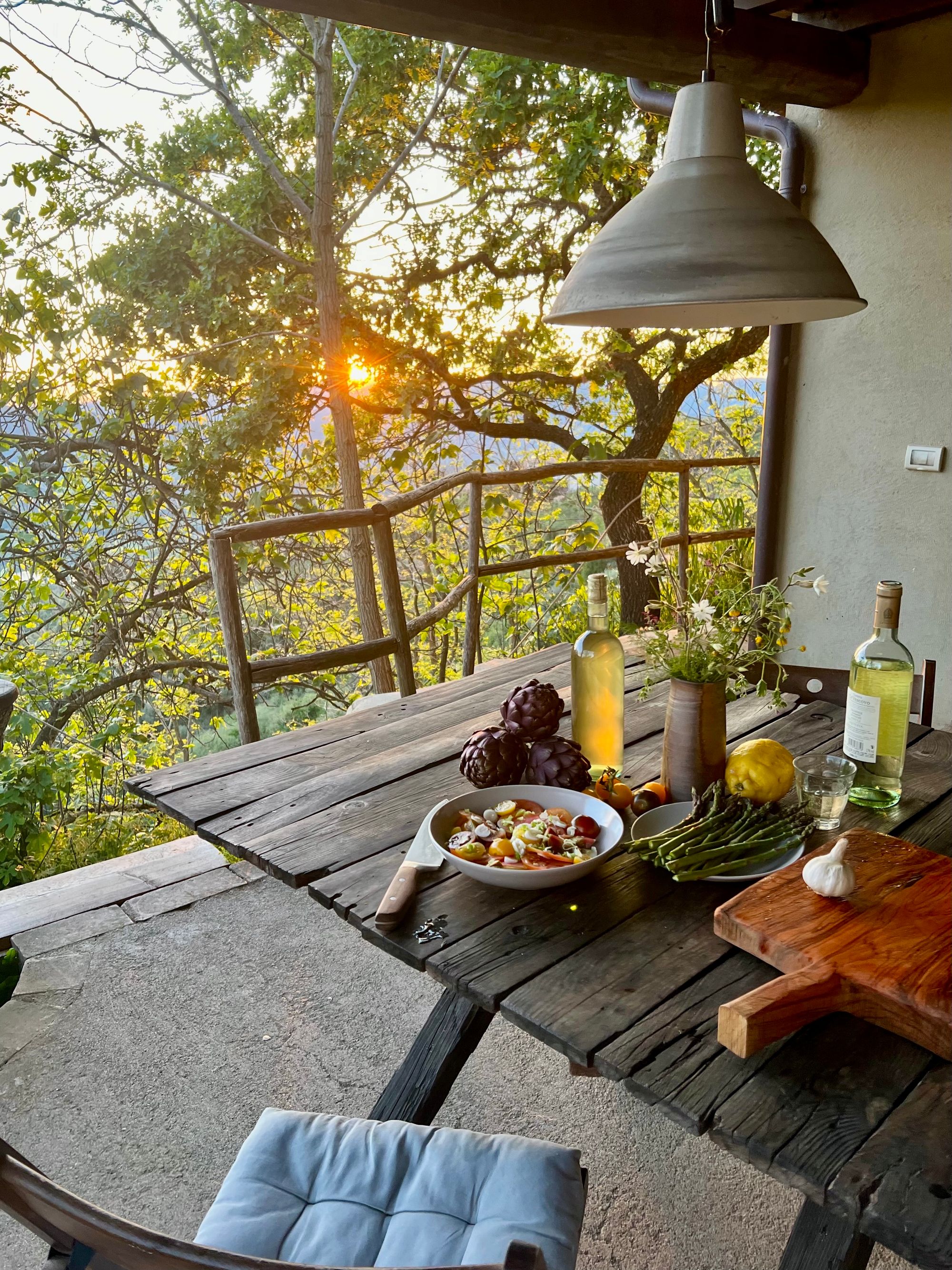 Who is Sophie from Mediterra Treasures?

I'm Sophie, a 28-year-old content creator based in Berlin, more precisely in Friedrichshain. Here I live in a beautiful old apartment, together with my boyfriend and our two lovely dogs, Bonnie and Milo.
My passion project, mediterratreasures, grew out of my deep love for the Mediterranean and its vibrant cultures. As someone who frequently travels to the region, I want to share the essence of this beautiful part of the world with my followers, providing them with insights into the beauty and experiences that enrich my own travels.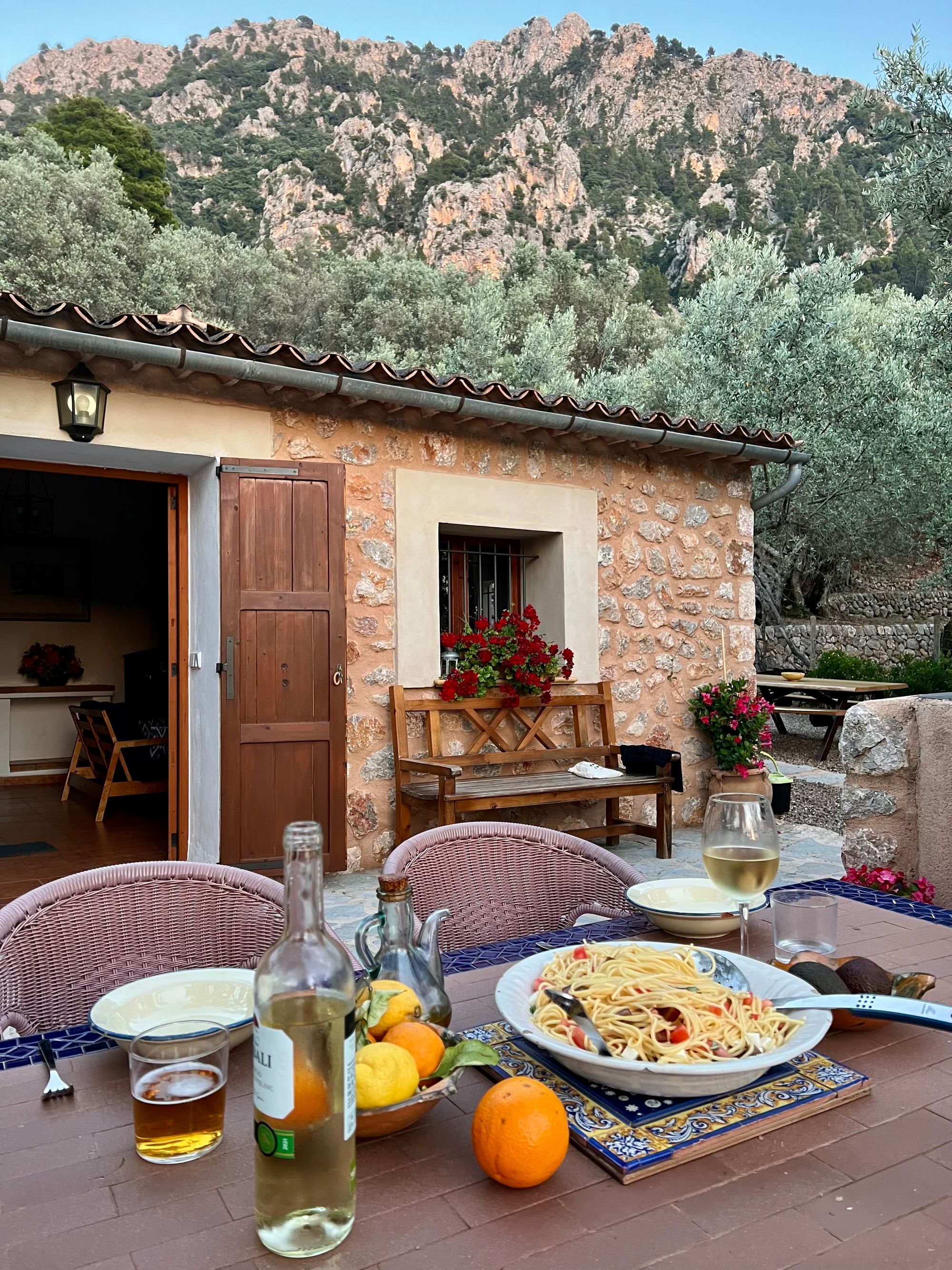 Your Instagram account is described as a visual escape to the slow life in the Mediterranean. Tell me more about the account's origins and purpose.
The origins of Mediterra Treasures go back to my fascination with the Mediterranean region and its way of life. I have always been drawn to this part of the world's laid-back, sun-soaked way of life, stunning landscapes, and vibrant cultures.
My goal with this account is to give my followers a glimpse into that world, to inspire them to slow down, savour life's simple pleasures, and find beauty in everyday moments, as the Mediterranean way of life encourages.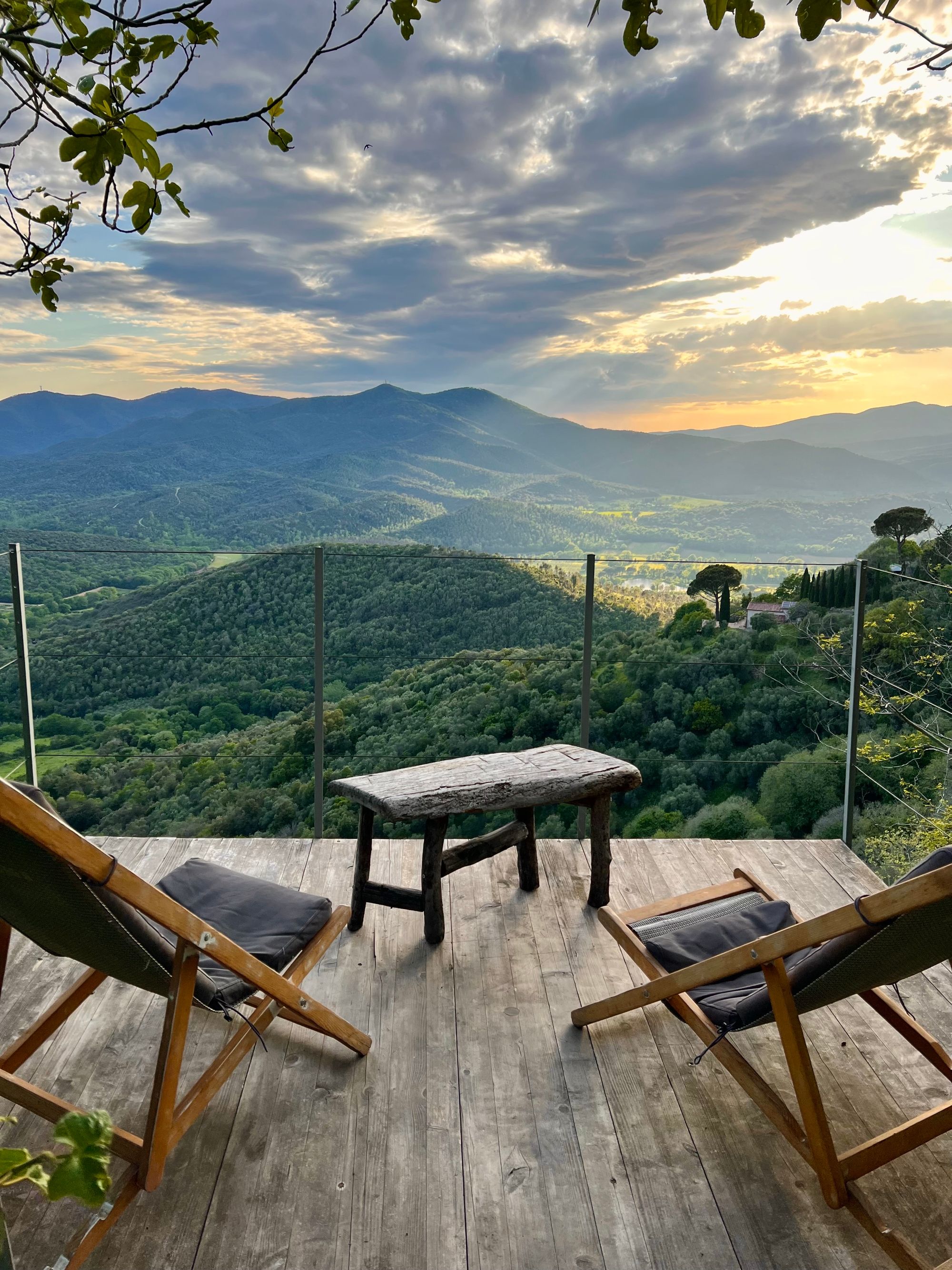 What are your sources of inspiration?
Inspiration is a deeply personal journey for me, intertwined with my love of the Mediterranean.
My sources are vast and varied. The picturesque landscapes, charming villages, and culinary delights are a constant source of inspiration.
The Italian regions of Puglia, Umbria, and the Aeolian Islands, in particular, hold a special place in my heart, inspiring me with their rustic beauty and rich culture, as do the Balearic Islands, particularly Mallorca and Formentera, which lie like treasures in the embrace of the Mediterranean, filling my soul with warmth and inspiration.
Additionally, I draw inspiration from art, literature, and the talented individuals I've met on my journeys.
My followers also play a very significant role in inspiring me, as they share their own experiences and stories with me, creating a deep sense of community and mutual inspiration.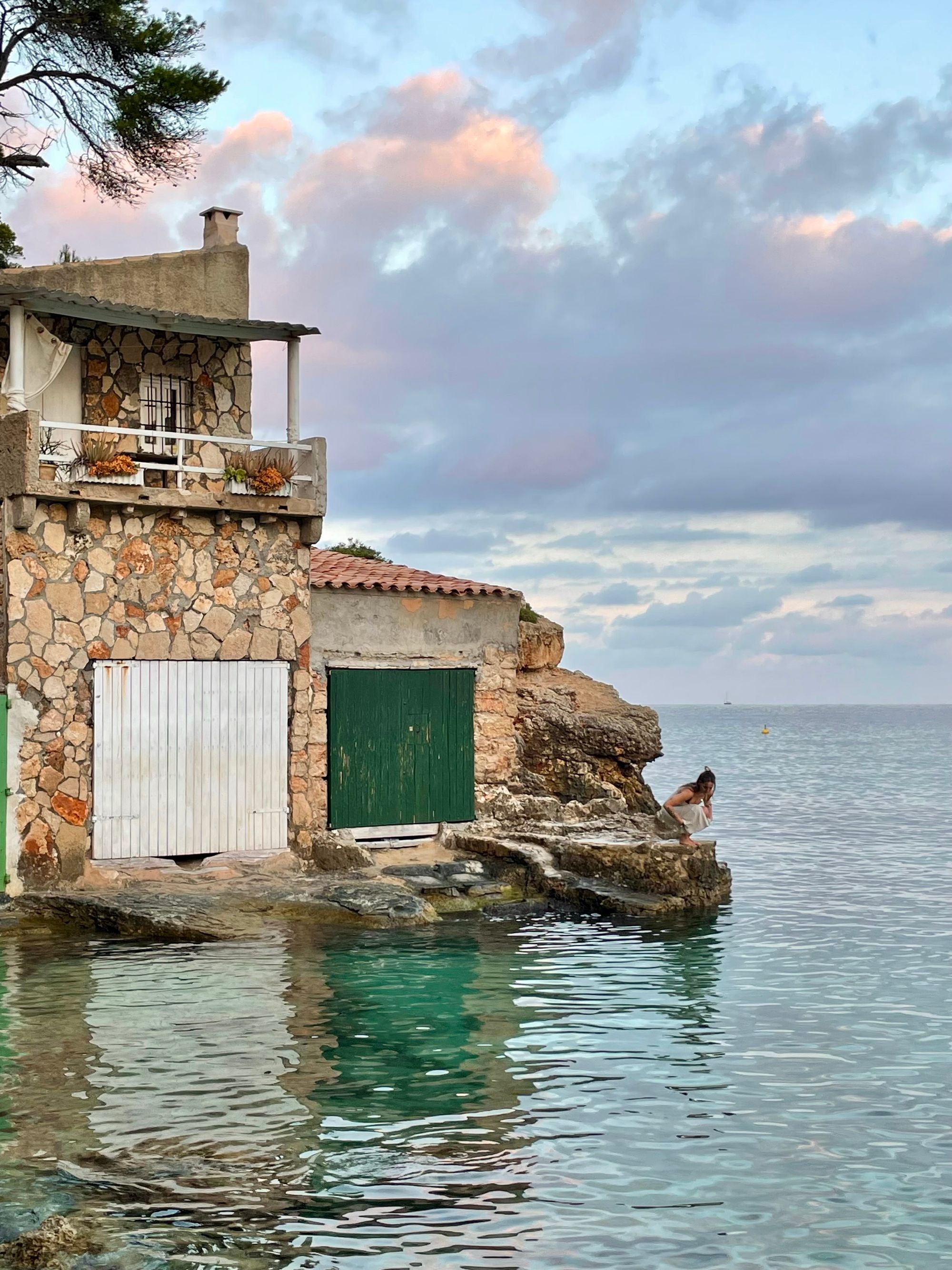 You frequently share images of slow food as well. Tell me about some of your favourite dishes.
Cooking isn't just a hobby; it's a passion that's deeply ingrained in me, especially as a vegetarian. Mediterranean cuisine is my heart's desire, with its fresh, high-quality ingredients and deep connection to local traditions. I feel truly connected to the art of food as I stand in my kitchen, cooking delicious meals and sipping natural wine.
I naturally enjoy familiar and simple Mediterranean dishes such as fresh Greek salad with creamy feta cheese and Turkish manti with their rich flavours, both of which have made their way onto my list of Mediterranean delights.
In Spain, I fell in love with Pamboli, vegetable paella, and vegetarian tapas.
And for me, Italian delicacies like fiori di zucca, traditional homemade Apulian pasta like orecchiette, caprese with bufala cheese, or a good bruschetta have their own magic.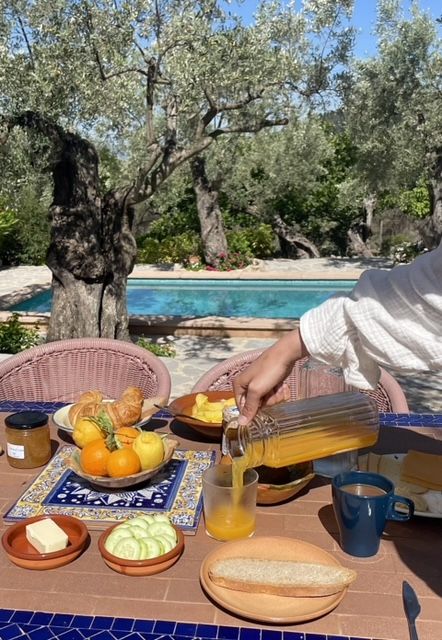 How do you embrace the finer things in life? What habits help you do so?
Embracing the finer things in life means cherishing the moments, savouring the experiences, and finding joy in the small details, in my opinion.
Mindfulness, taking time to appreciate the beauty in the world around me, practising gratitude, and making time for leisurely meals with loved ones are some of the habits that help me do this.
I also prioritise self-care and strive to maintain a healthy work-life balance, allowing me to fully immerse myself in the slow life I adore.
Where in the region around the Mediterranean would you say is a must-see?
Mallorca, where I fell in love with the rural side two years ago, is a Mediterranean must-see.
The Sierra Tramuntana and the Sierra de Llevant are only part of the island's charm. Mallorca's pristine beaches with their crystal-clear waters offer a true Mediterranean paradise.
The warm and hospitable people who embody the essence of the sun-drenched, leisurely way of life, however, make it truly exceptional. The locals on the island are well-known for their hospitality, which adds a special touch to any visit. It is a place where you can go deeper into your love for this enchanted island, basking in its natural beauty and, most importantly, its wonderful people.
I was wondering if you could recommend any other Instagram accounts that share the same philosophy of "slow and fine living."
I am deeply in love with accounts like @yoliandotis, @rym.nur and @mirenalos.
@plant_romance, @herrlich.dining, and @aromecassis are the sources of my passion when it comes to food content. They are just a small glimpse into the enchanting world where captivating content and deep insights come together to help you appreciate life's little pleasures and experience the joy of slowing down.
What women inspire you?
The women who inspire me the most aren't celebrities or great artists. Instead, they are the incredible women around me—like my grandma, my best friend, my mom, my stepmom, and my aunt.
They embody strength, resilience, and kindness in their daily lives, and it is their unwavering support and love that truly motivates and encourages me.
What does happiness mean to you?
Finding contentment and joy in the present moment, being with the people I care about, and having the freedom to pursue my interests and travel the world are all aspects of happiness to me.
It is also about appreciating the beauty in everyday experiences and finding a sense of fulfilment in the small pleasures that make up our lives.
Finally, the Mediterranean way of life promotes living in harmony with oneself and one's surroundings.
photos: Sophie